Wander around Hoan Kiem Lake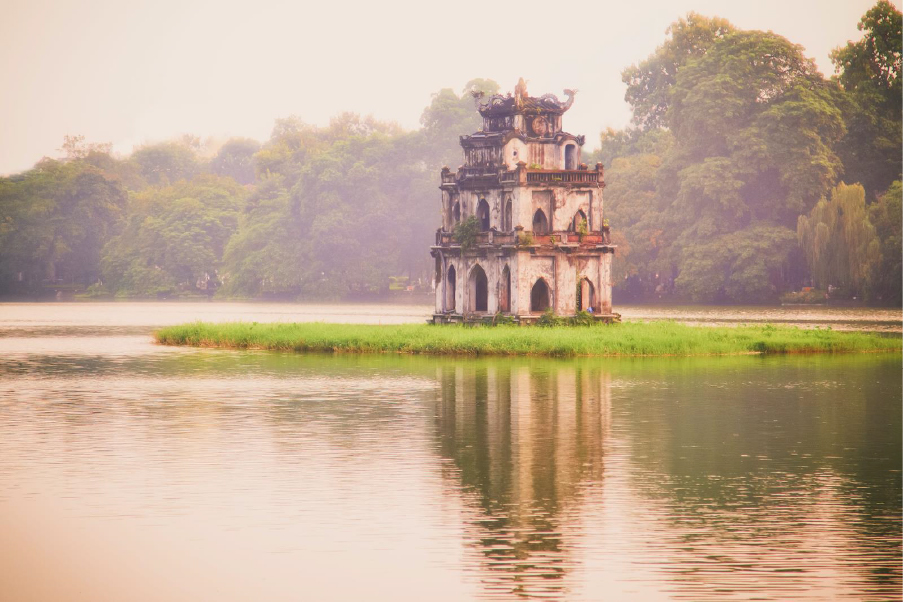 Hoan Kiem Lake ( meaning "Lake of the Returned Sword" or "Lake of the Restored Sword"), also known as Sword Lake or Ta Vong Lake, is a freshwater lake, measuring some 12 ha in the historical center of Hanoi, the capital city of Vietnam.
Hoan Kiem Lake is perhaps the most famous spot in Hanoi and is also believed to be a mystical body of water.
The lake is considered the heart of Hanoi, not only geographically but also symbolically. In fact, the more you spend time learning about the lake, the more special it becomes.
Go boating at West Lake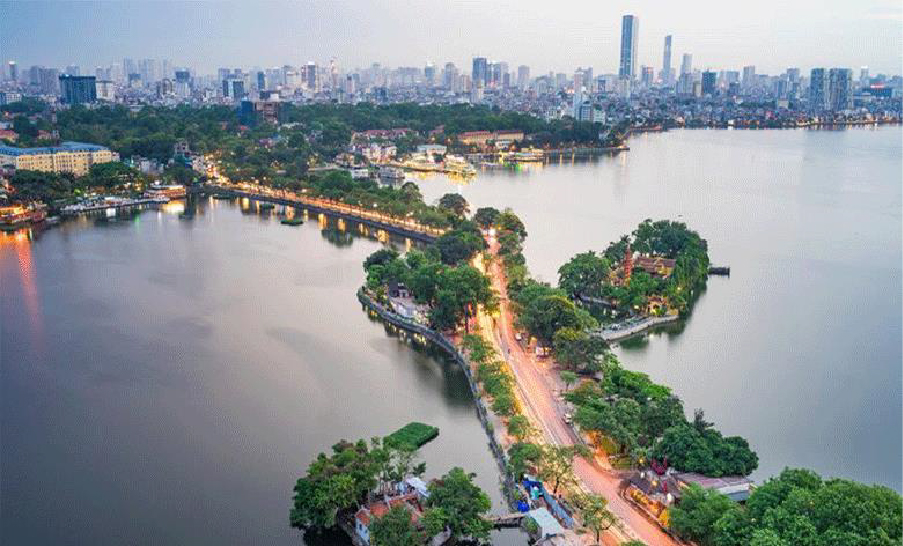 West Lake (also known as Ho Tay Tay Ho) is one of the most famous tourist attractions in Hanoi and can also be considered as an iconic place of the capital city of Vietnam. Having a serene and tranquil beauty, West Lake Hanoi would definitely be a proper choice for those who are tired of the hustle and bustle of modern life.
Being there, tourists (or even locals) looking for respite can totally be satisfied as West Lake offers a harmonious combination of poetic lake, solemn historic areas, amazing activities, and unforgettable food.
Other spots of interest nearby are the Quan Thanh Temple which dates from the 11th century and one of the best things to do here is hire a boat and go boating on the glassy lake.
Have a bowl of noodles at Pho Bat Dan
Located at the heart of the Old Quarter, this little shop has been here since the 1960s. Selling only beef noodle, a bowl of Pho here still retains the original taste when it was once introduced. Followers of this place are not the faint hearted. The broth is clear and rich with reduced goodness of bone marrow but is not fatty. The beef is tender and soft with a glowing pink hue. You will probably spot the place from a mile away as there is usually a long line snaking out the door, which tells you everything you need to know about these toothsome noodles in broth.
Go shopping in the Old Quarter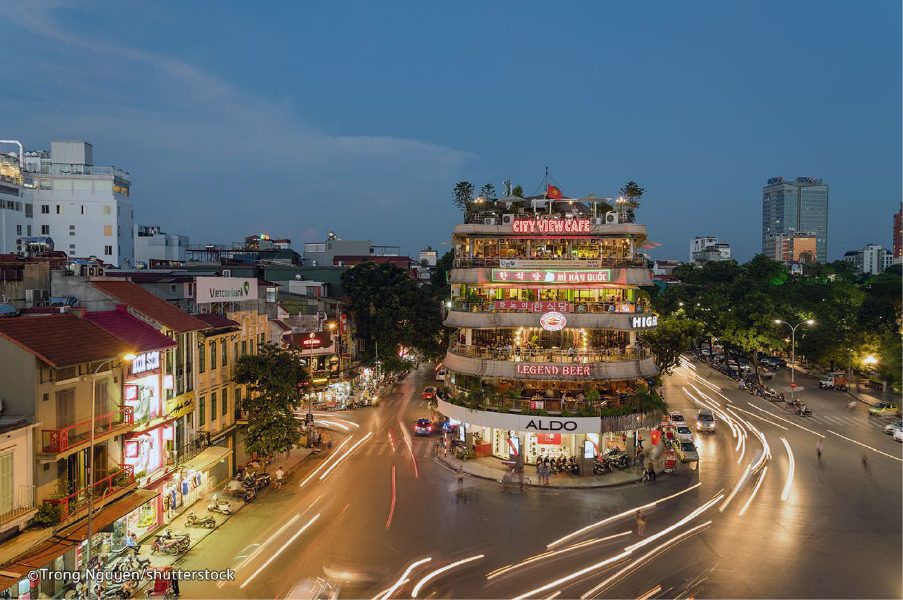 Hanoi is a city more than a thousand years old, also the capital of Vietnam. In the past, Hanoi had 36 old streets, all streets starting with the word "Hang" and then the item is named of products for sale.
For example, Hang Bac – means silver street (sell only silver), Hang Gai – mean silk street (sell only silk), Hang Tre – mean bamboo street (sell only bamboo)… After thousands of years of history, Hanoi people still preserve and protect traditional values as well as craft villages such as silk weaving, handicrafts, jewelry, embroidery…
Get a tattoo in 1984 Studio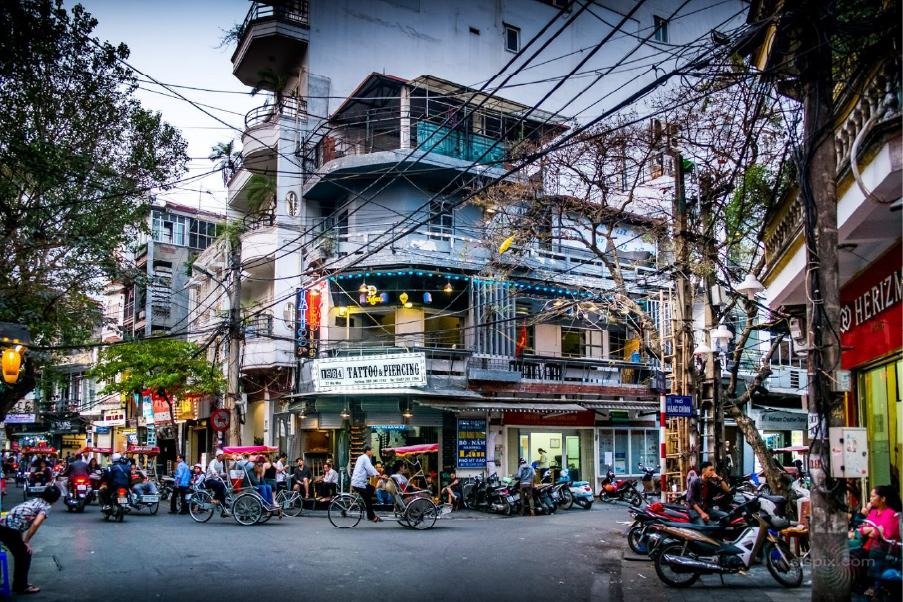 1984 Studio is definitely the #1 choice providing one of the best professional tattoo & piercing services in the industry in terms of quality and facility.
We give the platform to realize your perfect memory in physical form, to get the first tattoo or to add another one to your collection. We offer a most hygienic and friendly environment when you visit us.
Come to 1984 Studio to experience professional services and get the best quality tattoos to save great memories in Vietnam.
Watch a performance at Thang Long Water Puppet Theater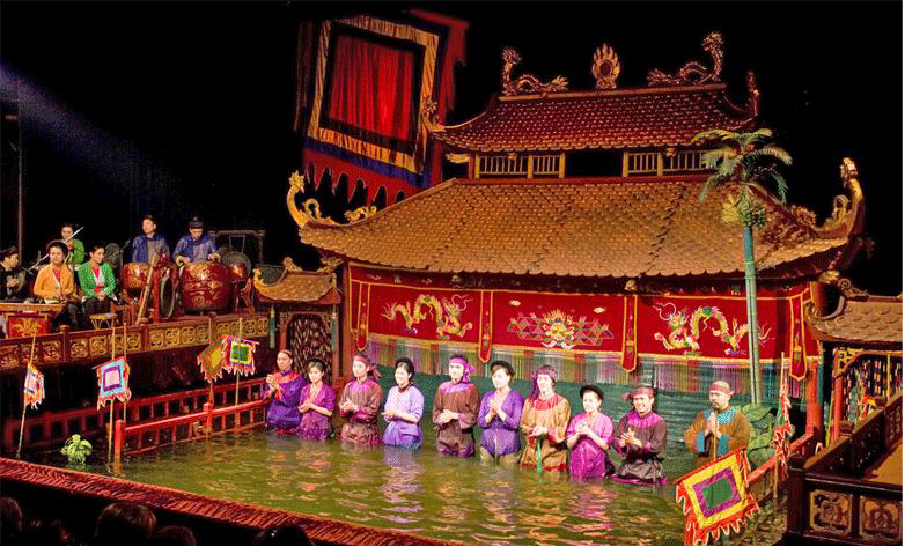 When you are in Hanoi, one of the sights that you absolutely mustn't miss is a trip to the Thang Long Water Puppet Theatre. Here you will find a theatre that features a waist high pool of water that the puppeteers stand in.
They then operate puppets which are fixed to long bamboo canes and it looks as if they are dancing on the surface of the water. The shows here usually tell you the story of local legends and farming stories or Vietnamese myths are also common. This kind of performance is said to have started in rural Vietnam when the rice fields flooded in the rainy season and locals would dance with the puppets on the water to entertain themselves.
Take a trip to the Ho Chi Minh Mausoleum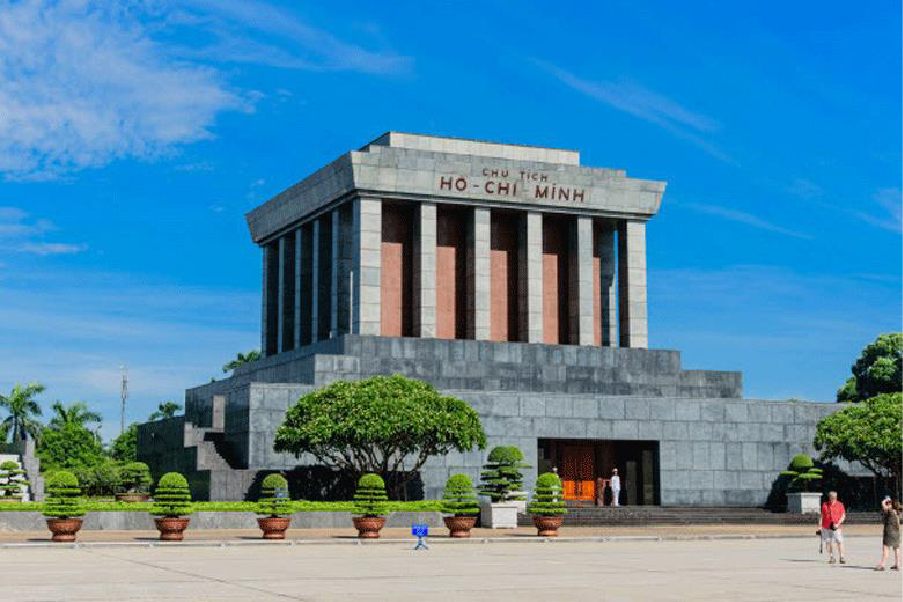 Ho Chi Minh Mausoleum is one of the most famous works in Vietnam. Thanks to its great cultural and historical value, it attracts a large number of domestic and international tourists each year.
Coming to Ho Chi Minh Mausoleum, you can learn more about Ho Chi Minh's life and his significance in Vietnamese history, as well as expand your understanding of the country through many nearby relics.
On the same grounds, you will also find the Ho Chi Minh Museum which tells you all about the life of this key figure in Vietnamese history and there are galleries filled with his personal memorabilia.
Finally, to explore more images please visit our Fanpage here or check out our blog for some inspiring stories.