New School tattoo had its first appearance in the late 70-80s in California, America by artists experimenting with fresh and extraordinary designs of that time such as cartoon characters, science fiction themes tattoos and many more. New school tattoo has been a staple of tattooing since then and as a tattoo studio, we also keep up with the long-last love for this style. 
Take a look at this handful of awesome tattoos in the new school style by our artists. With no further ado, let's dive right and tell us which design is on your bucket list this year. 
1.

New School Tattoo Innovations

The trend started with the evolution of artist style and arts, then began to sparkling famous due to clients' taste changes. Mainstream pop culture, cartoon, Disney golden era, graffiti, and Hip Hop street vibes are the main influences of the tattoo new school genre. One of the most iconic ideas of new school tattoos may sound insanely familiar to any of the 90s kids, including Betty Bop, Pokemon, Zelda, Mario,…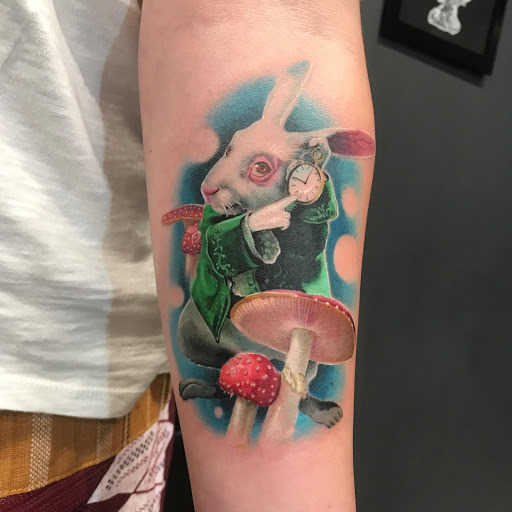 The new school tattoo aesthetic then went wild again in the early 2000s when the internet had finally commercialized. This leads to a whole new spectrum of ideas, inspiration, and styles. New school tattoo made a huge hit on tons of artists and tattoo lovers in the industry at that time. 
Along with the movement of new school tattoos, the ancient art form traditional tattoo and the newborn neo-traditional had been extremely opened and influenced heavily on each other. This is also when Japanese art through anime and manga comics made its move and incredibly affected New school tattoos. Besides American cartoons, anime like Dragon Ball Z, Sailor Moon, Gundam, Inuyasha,…. is a huge source of influence on the tattoo new school style.
2. New school tattoo designs
New school tattoos have been one of the biggest tattoo trends in the past few decades. Today, the new school has evolved and created many subgenres. For years and years later, it will be a staple of tattooing in Western and Eastern countries.
Have a look at these magnificent new school tattoo designs inked by our talented artists. Some are nostalgic, some will bring back the memories of the 90s and 2000s while others might leave you in awe. However, those are what you might call the "killin' the game" tatts.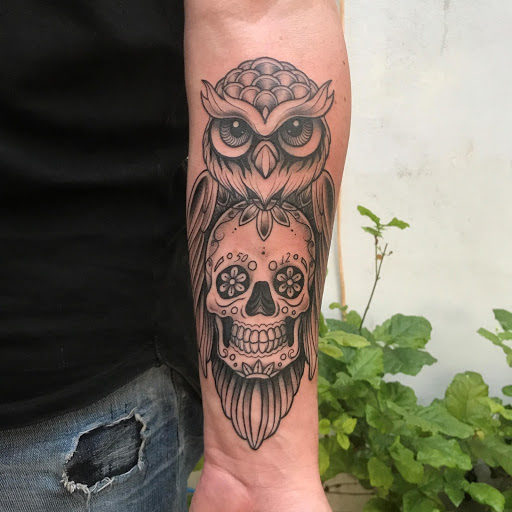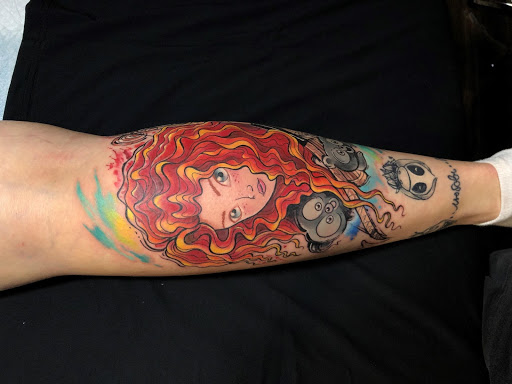 Doing a Disney marathon, how about that? Those are sick and iconic Disney movies that every 90s kid grew up with. Mulan, Fox and the Hound, Wall-E and so many more. Which one do you like best?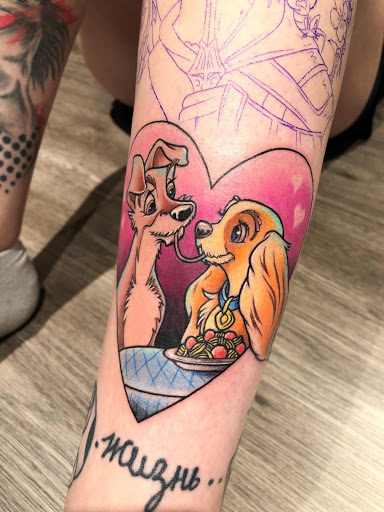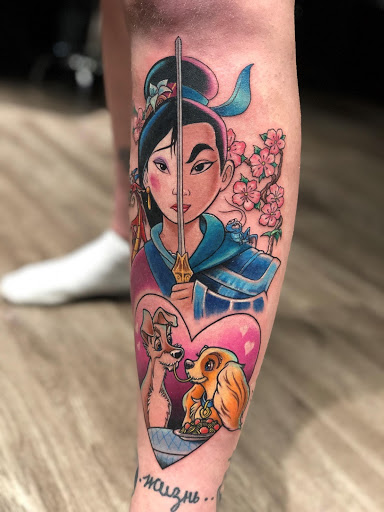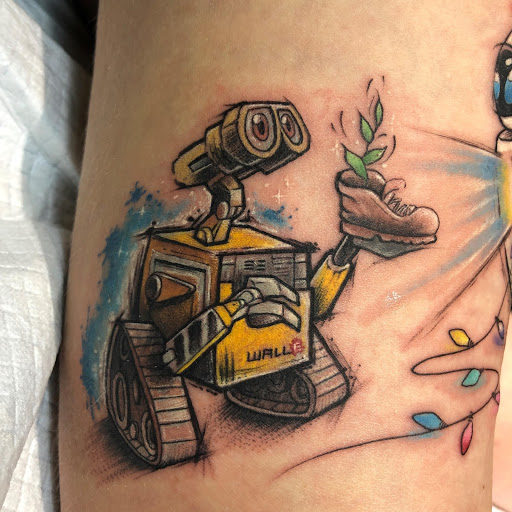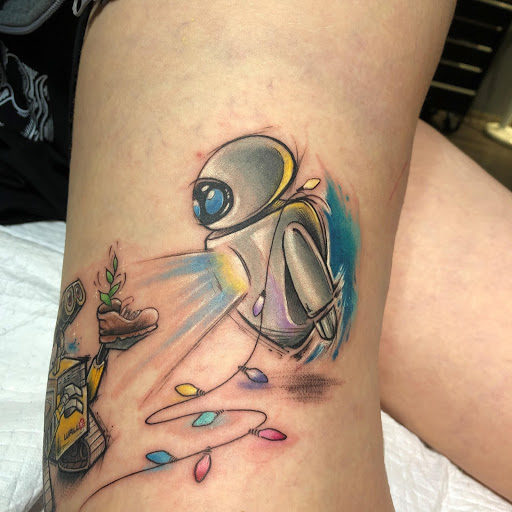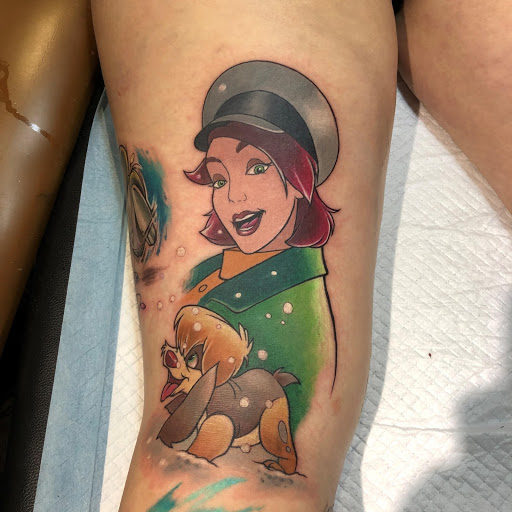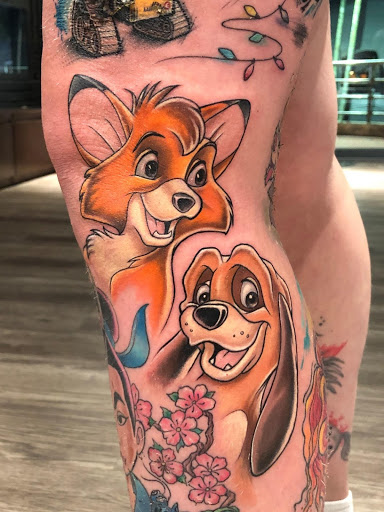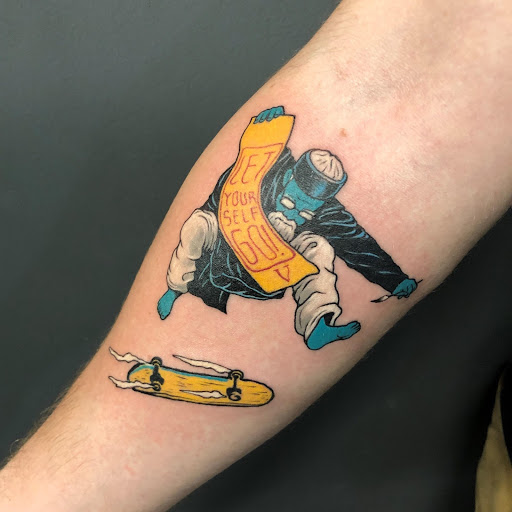 Next up this is where street art vibes influenced the new school tattoo. Fun, energetic and sometimes dorky, but everything had its own story behind it. Yes, some of those new school tattoos are incredibly random, but no one said you can't have a random funny tattoo, don't you?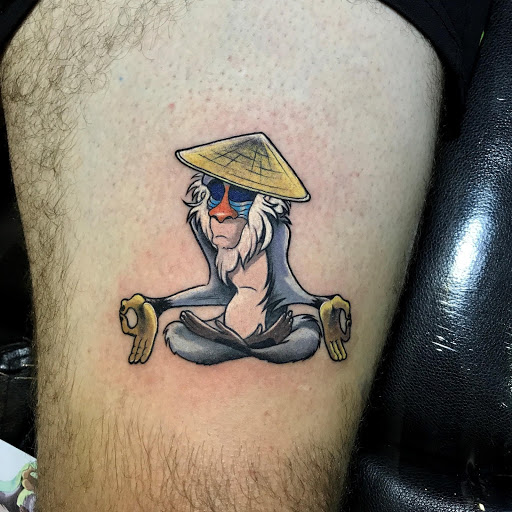 Here is another one that we're super enjoyable in the making process. A Lion King artwork with a touch of Asian/ Vietnamese with the conical hat. Looks great and it's gonna be a fantastic conversation starter.