As you may hear about it or scrolling through it on Instagram, sternum tattoo is the hot new trend of 2020 among women. Sternum tattoo is eye-catching, impressive, and incredibly sexy, but what more do you want to know about it? Come on in, here are some secrets no one tells you about sternum tattoos. 
What Is A Sternum Tattoo?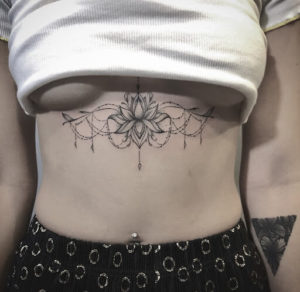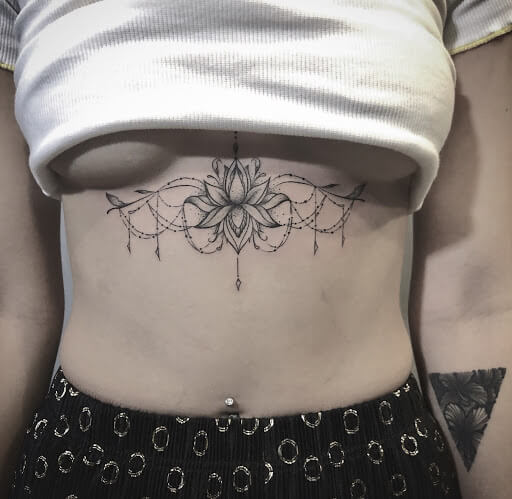 Sternum tattoo, or can be called chest tattoo or underboob tattoo, is the symbol of attractiveness in 2020, and people are all crazy over it. This style of tattoo is inked on the breastbone for men, and often follow the curve underneath of the breast for women to create such a feminine and charming look. Sternum tattoo is among one of the best chest tattoo for women, and it's a must to check them out. As explaining a sternum tattoo is so simple, other problems that associate with this tattoo are entirely opposite. 
How Bad Will Sternum Tattoo Hurt?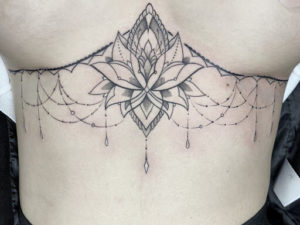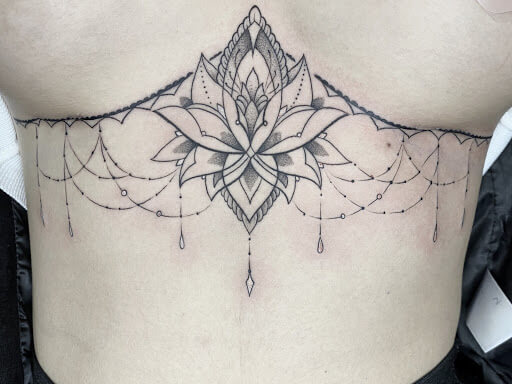 The result always looks phenomenal, but don't let that visual lure you away from the pain during the tattoo process. As many of our customers had told us, the sternum tattoo will hurt quite a lot. You might ask why does it hurt, and here are the reasons:
They are close to your bones: Sternum tattoo located right on your ribs, which is the part with less muscle and fat. In common, the tattoo pain levels are affected by tattoo location. You might find an arm or thigh tattoo hurt much less than a sternum tattoo. 

Sensitivity: Have you ever thought a tattoo could feel like it's knocking on your bones? That's how a sternum tattoo feels. This part of the body is very sensitive, so the vibration of the tattoo needles will make you feel like it's so close to your bone. It could be quite a shock to most people to first handle it.

Delicate design: The harder it gets, the longer time it takes to complete the tattoo. So if you want a less painful session, consider choosing a smaller and more simple design.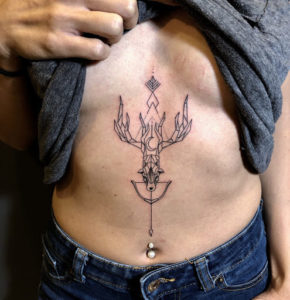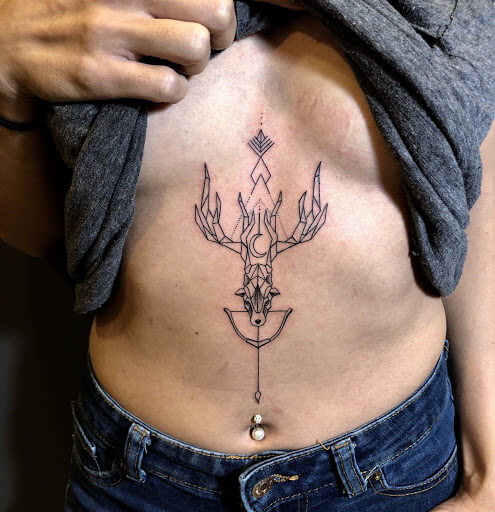 What Should You Do To Reduce The Pain?
One of the first things you should do is talk to your tattoo artist and be aware of your pain threshold. Due to that, they would know and can be more gentle during the tattoo session.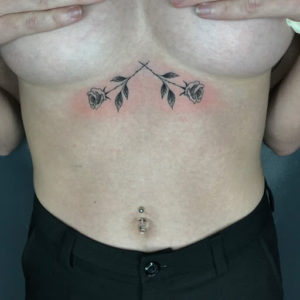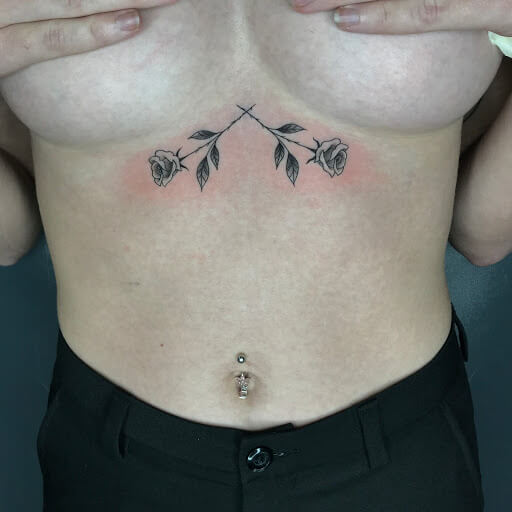 Next is considering numbing-cream. Many tattoo artists would avoid using it on your tattoo area to not affect the tattoo quality. But how you feel during the session is essential as well. Consider using it with your tattoo artist's advice for the best result. 
Sternum Tattoo Aftercare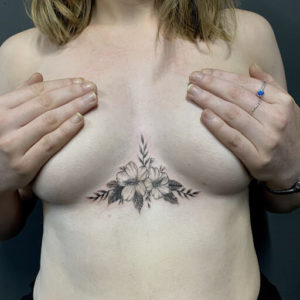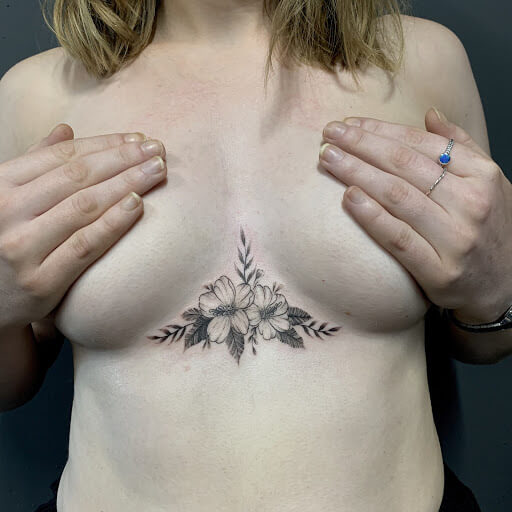 Good news for you is here ladies, in the first few weeks after tattooing, you can get rid of your bra. This should be applied to prevent you from getting infection or irritation during the healing process. If you need to wear a bra, choose the type that is not too tight to your skin.
Another thing to do is minimize the amount of driving since it could create pain and uncomfortableness during the healing process. Reducing the time you have to drive is an effective way to keep your tattoo from shrinking and having too much tension.
And last but not least, your sleeping habits. The best position to sleep in after having a sternum tattoo is laying flat on your back. It will prevent you from feeling the pain of accidentally touching your fresh tattoo during your sleep.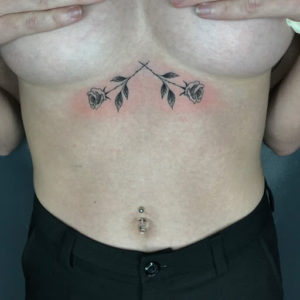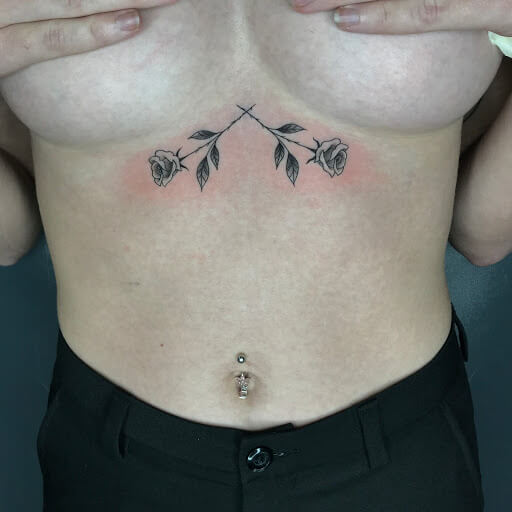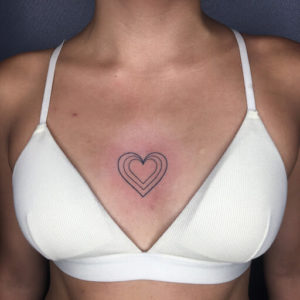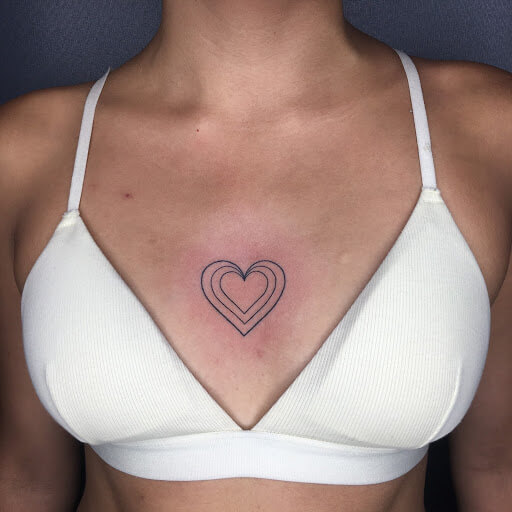 With all of our tips above, we hope that you can achieve your beautiful sternum tattoo with ease. The process might be tough a little bit, but the result will worth it all. Don't forget to check out our other articles here for more tattoo tips and inspiration or you can check out our Facebook page for a variety of videos and images.